TouchpointsTM Approach
Please click here for the latest Touchpoints Training information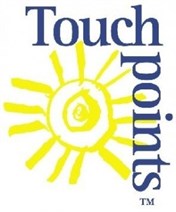 Touchpoints™ is a practical approach for enhancing the competence of parents and building strong family-child relationships from before birth through the earliest years, laying the vital foundation for children's healthy development. The approach was developed by T. Berry Brazelton, MD and his colleagues from the Boston Children's Hospital to strengthen the families of young children and the systems of care that surround them.
Smart Start of New Hanover County is proud to be one of 130 Touchpoints™ sites in the country. Since 2007, almost 300 providers in our county (doctors, nurses, social workers, child care professionals, psychologists and others working with young children and families) have been trained in how to use the TouchpointsTM Approach to be more effective and to achieve better results.
For further information about the TouchpointsTM Approach, please visit the Brazelton Touchpoints Center.
To apply to attend an 18 hour training and to receive a Touchpoints™ Individual Level Training Certificate, please email Mebane Boyd or call 910-815-3731.